By
Felicia Gustin
Oct 29, 2012
An Interview with SOA Watch founder Father Roy Bourgeois
Few things represent U.S. military aggression in Latin America better the School of the Americas. In its 66 years, this military training institution at Fort Benning in Columbus Georgia has taught over 64,000 Latin American soldiers and security personnel everything from counterinsurgency techniques to interrogation tactics to commando warfare. Graduates of the school, renamed the Western Hemisphere Institute for Security Cooperation (WHINSEC) in 2001, have been responsible for some of the worst human rights crimes in Latin America in recent memory.
Father Roy Bourgeois is the founder of SOA Watch, an organization that has been working for over two decades to shut down the School of the Americas. From its first vigil in 1990 with 10 people at the gates of Fort Benning, the gathering has grown to become the largest annual anti-militarization convergence in North America, drawing thousands. With the 23rd gathering just weeks away– November 16-18 – I spoke with Fr. Roy for War Times. 
Felicia Gustin: Take us back to the beginning – what led to the formation of SOA Watch and that first vigil.
Roy Bourgeois:The 1980 rape and murder of three nuns and a layworker in El Salvador led a group of us who had spent time in Latin America, to travel there to investigate. What we found – and this was also the findings of a Congressional task force – was that those responsible for the massacre, as well as the assasination of Salvadoran Archbishop Oscar Romero months before, were trained at the U.S. Army School of the Americas. We found that those who committed massacres of campesinos and labor leaders throughout the hemisphere were trained at SOA.
So we began to speak out and make the connections. The SOA – called "School of Asssasins" in Latin America - was in our backyard and we wanted to say "not in our name" as well as keep the memory alive of the thousands of men, women and children who had been killed by graduates of this school.
So we put out the word to gather at the gates of Fort Benning. The first year (1990), there were 10 of us, but the next year there were 200, and then the next year 1,000, until the numbers grew to 20,000.
Something happened when we came together like this and we began having teach-ins and workshops. We learned that there is not just one way to confront U.S. foreign policy – we needed a lot of people doing a lot of things and our work expanded to lobbying efforts as well as sending letters to members of Congress. 
When the torture manuals came out, that helped call a lot of attention to the issue. You had major newspapers – the L.A. Times, Washington Post, New York Times – calling for closure of the school and it became a public relations nightmare for Washington. In the face of all this, the Pentagon simply changed the name of the school to the Western Hemisphere Institute for Security Cooperation. It was a new name but the same shame. It was still about men with guns protecting the exploitation of cheap labor and natural resources.
FG: After all these years, why do you think people from throughout the Americas continue to come to the annual convergence at Fort Benning?
RB:In my travels across the country over the years there was, and still is, ignorance about U.S. foreign policy. Our greatest enemy is ignorance; our sword must be wisdom. The School of the Americas has become a door to LatinAmerica: 64,000 soldiers have trained here and that teaches us about U.S. foreign policy. It's all about exploiting cheap labor and natural resources in the countries of the Americas and protecting a small economic elite who hold the power and need their militaries to protect their interests. These soliders have caused untold suffering and death and the School of the Americas has become a symbol of U.S. foreign policy that has resonated with people from all walks of life.
More recently, with the economic crisis, people are seeing cuts to education in this country while $30 million each year - a conservative estimate - is being spent to run the SOA. Just one county over from the SOA, schools have been cut to four days a week, school food programs have been cut, teachers have to take a furlough day and there are fewer teachers for bigger classrooms. It's become personal – people are saying their tax money should not be going to this.
FG: There are now a number of Latin American countries that are no longer sending their troops to train at the SOA. Tell us more.
RB:A few years ago we strategized and decided that we would travel to these countries and meet with their leaders, asking them to pull their troops. I'm happy to report that six countries – Ecuador, Nicaragua, Argentina, Bolivia, Uruguay, and Venezuela  - have withdrawn from the SOA. The first was Venezuela where we met with (President Hugo) Chavez.
In Bolivia, we met with Evo Morales and what he said was very significant. "This is a different time,' he told us, "Your country has been, for many years,
conquistadors. Those days are gone. We, the poor, are united. If your country can come to Bolivia as a partner to improve the quality of life for our people, welcome. If not, stay home."
Bolivia was particularly special for me. This is where, after I was ordained a Catholic priest (in 1972) I was assigned to Maryknoll's mission work for five years. I remember visiting, during that time, with political prisoners who were victims of the brutal dictator, General Hugo Banzer. Today some of them are government ministers. I never imagined this would be the case.
In Ecuador, we met with President Rafael Correa three years ago but he said he needed more time to look at the issue. But when we recently returned, he announced to us and the large number of media that had gathered for our visit that Ecuador would no longer be participating in the school. "This school should not exist. We are not going to be part of this," he said, and especially after visiting the site of the massacre in El Salvador, he told us he realized how much suffering and death this school has caused throughout the Americas.
More recently, we meet with Nicaragua's President Daniel Ortega who said, "All of the countries of Latin America have been victims of graduates of the SOA. SOA is a symbol of death, a symbol of terror. We have now entered a new phase and will not continue to send troops to the SOA."
Our next trip will be to Brazil. But it is Colombia that has most troops being trained at the school, some half of current SOA trainees. There are still a lot of human rights abuses in Colombia, which is the most dangerous country for union workers and labor leaders.
FG: Has the current U.S. administration been receptive to your call for the closing of the School of the Americas?
FB:We have been assured that Obama's Deputy Foreign Affairs Advisor Denis McDonough will meet with us. At that meeting, we will have representatives from the UAW, the NAACP, students, church leaders, survivors of torture from Guatemala and Argentina as well as a nun from the Leadership Conference of Women Religious (LCWR) which has 80,000 members and was the first organization to call for the closing of the SOA.
The message we're taking to the meeting is that this school is seen by the leaders and populations of these countries as a symbol of U.S. foreign policy. By closing it, we can send a strong message to these countries that this is a new begininning, a time for closer, positive relations. We will request, through McDonough, that Obama close the school by Executive Order. If Obama is re-elected for another 4 years he might have the courage to do what he didn't do in the first 4 years.
We also have a longtime supporter in Congress - Representative James McGovern (D- MA) - who will be reintroducing the Latin America Training Review Act (HR 3368) to suspend training at the school and review training manuals.
So we're calling on people to send messages to members of Congress to not use our tax dollars for the SOA, that this is a theft of millions of dollars from our schools for our children.
We know it's not easy for people to come to the Ft. Benning vigil, especially in the current economy. So this year, we are also encouraging local actions and events - have a speaker, show a documentary. We have a number available about the issue. "School of Assassins" narrated by Susan Sarandon got an Oscar nomination and there is a new documentray, "We are One America." Bring a group together locally and express your solidarity with the action at the main gate at Ft. Benning.
FG: This year the 3-day convergence also includes a demonstration in solidarity with immigrants being held atthe Stewart Detention Center near Ft. Benning. This past February you were arrested at the U.S.-Mexico border. How is the issue of immigration connected to the work of SOA Watch?
RB:We sent a delegation in February to the border at Juarez and talked to people on the ground who are really our teachers and who are living there in these war zones. What we heard and saw was that many of those involved in the drug war were trained at the SOA including the Juarez police chief.
We were briefed on the maquiladores – 80% of these factories are from the U.S. and workers are paid $5 a day. Again it's about cheap labor, exploiting workers, and protecting those interests.
If any of us lived in Mexico, with such violence and not being paid enough to survive, we too would be heading north, crossing the border.
U.S. foreign policy is connected to immigration and militarization. The U.S. is not an innocent bystander. So many immigrants – from Mexico, El Salvador, Honduras – have fled their countries due to U.S. foreign policy which supplies the training and the guns to protect the small economic elite as well as U.S. economic interests.
After hearing so many stories and seeing the complicity of our own country, we decided to cross the border as a symbolic gesture to call attention to injustice. So we crossed into Mexico from the U.S. side and then came back across without papers, which is illegal. The U.S. Border Patrol arrested Nico (Udu-gama, a SOA Watch Field Organizer) and I and we were taken to a detention center near El Paso that is out in the desert.
We were told that the US District Attorney was being consulted since they didn't know what to do with us. They did know that a trial would bring publicity and more attention to the issue of immigration and the injustices going on and that we were willing to do prison time for the cause. So eventually they came into our cell and told us that they were cutting us loose and not filing charges. We were disappointed but will continue to turn a flashlight on unjust immigration policies and the connection to the School of the Americas and U.S. foreign policy.
Over 1,000 men and women are being held at Stewart Detention Center in Lumpkin, GA so on Friday, November 16, we will gather there and say "Not in our Name!"
FG: You've talked about the link between immigration and militarization. What about the connection between militarism and other issues? And how do we sustain this momentum?
RB:We gather at Ft. Benning in the name of justice, peace and solidarity. There are many workshops dealing with the military, for example, looking at the use of drones. But we also have sessions looking at racism, sexism, homophobia - issues that are all connected. We are still about closing the SOA but what we've learned is that we need to make these connections because they are indeed all connected. Our movement today is very vibrant. We are not going away, we are keeping our hands on the plow.
There are those who are willing to cross the line (onto the premises of the school), who are arrested and have gone to prison for at least 6 months. For the last 22 years, over 350 people have done this – crossed the fence into Ft. Benning – Catholic nuns, retired military, people from all walks of life. There will also be peaceful civil dispbedience at the Stewart Detention Center. We call them our "prisoners of conscience" and when they send us to prison, it energizes the movement.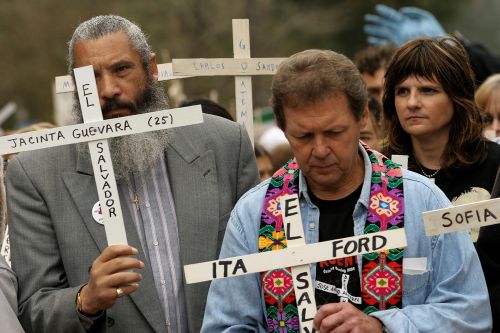 I have also been so deeply moved by people around the world struggling for justice. Like 14-year-old Malala Yousufzai who was shot for speaking out for the education of girls. Fear could not silence her. It's not enough to say that Malala stood up for something so important. May she also empower us here in the U.S. to not be afraid to speak out against sexism, racism, and homophobia in our own country and wherever it exists.
FG: And when you are finally able to shut down the SOA?
RB:Closing the school will be a victory but we will keep working to change U.S. foreign policy. That is life long.I've learned there is no one way to bring about justice and peace and equality. We need a lot of people doing a lot of different things but what is important is that we all do something and do it well.
#                        #                        #
To learn more about attending the November Vigil, about resources to stage events in your local area, and how you can get involved, visit the SOA website at: www.soaw.org
The views expressed here are those of the author and do not necessarily represent those of the entire War Times project
Felicia Gustin has been with War Times since the beginning. She currently works at SpeakOut, a national organization working primarily with colleges, universities, and high schools and dedicated to the advancement of education, racial and social justice, leadership development and activism. She is a long-time activist in international solidarity, peace, racial justice and labor movements. She was a journalist for 10 years in Cuba and is currently working on several projects - an historical memoir and a poetry collection, among others.
Add a Comment
Dear Reader: Please help us keep our comments section a safe space of respectful and healthy dialogue that furthers the work against militarism and toward justice. Comments will be moderated.
Facebook
WT Comments